This is a page dedicated to weekly standings for the English Premier League. I am a fan of the Premier League and I am a long time Gooner though try as I might no sort of predictions I do can make them better. The first year was the 2017-18 season for which I did weekly predictions and ended up with 61% accuracy at the end of the year. The second year I got more ambitious and extended the model to include Transfer Market data, and ultimately only made it through 31 weeks. For the 2020-21 year I am taking a break from weekly predictions to use this page as a testing ground for visualizations and other ideas around the league.
Though this will appear on my blog feed it can be found in later weeks on the navigation bar via the button. Constantly under construction.
The Title Race
One interesting aspect of the league over the last few years has been the points spread from the top few to the rest of the table. This next visualization helps look at the table in the context of points week over week. This sort of visualization can show a team's trend, as well as just how far apart the leaders are from the rest of the pack.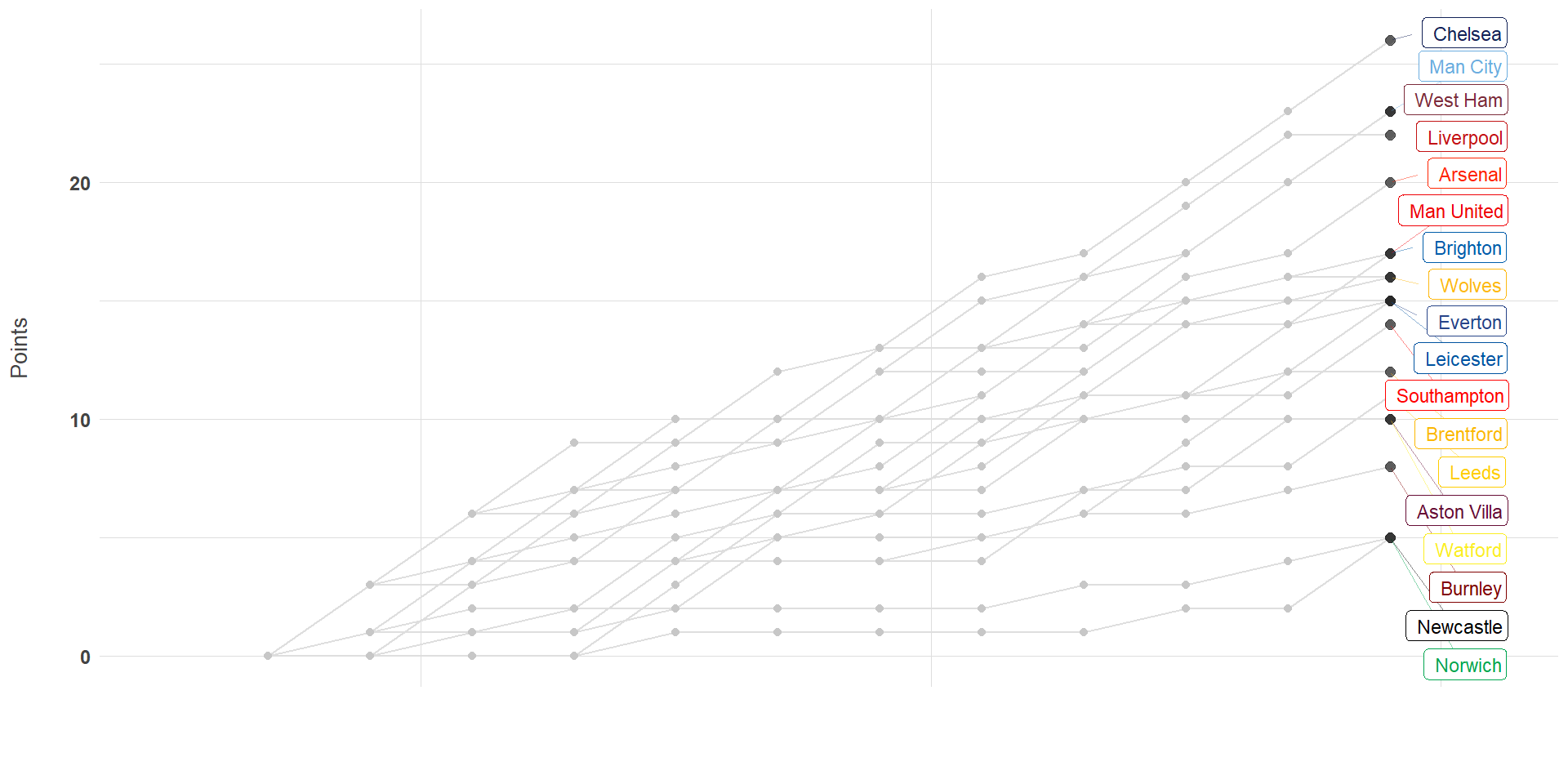 ---
Fantasy Corner
I have admitted a few times
before
about participating in Fantasy Premier League seasons so I thought I would use some data to project a fantasy premier league squad based on data from the
Fantasy Premier League API
.
| logo | Player | Pos | Form | Pts |
| --- | --- | --- | --- | --- |
| MCI | João Pedro Cavaco Cancelo | DEF | 5.7 | 67 |
| LIV | Trent Alexander-Arnold | DEF | 7.7 | 64 |
| CHE | Reece James | DEF | 13.7 | 63 |
| CHE | Antonio Rüdiger | DEF | 5.7 | 53 |
| LIV | Virgil van Dijk | DEF | 2.7 | 49 |
| MCI | Rúben Santos Dias | DEF | 3.0 | 49 |
| WHU | Michail Antonio | FWD | 3.7 | 61 |
| LEI | Jamie Vardy | FWD | 1.3 | 60 |
| MCI | Gabriel Fernando Jesus | FWD | 3.0 | 50 |
| CHE | Edouard Mendy | GKP | 4.7 | 53 |
| SOU | Alex McCarthy | GKP | 6.3 | 47 |
| LIV | Mohamed Salah | MID | 11.3 | 117 |
| CRY | Conor Gallagher | MID | 7.0 | 62 |
| LIV | Sadio Mané | MID | 3.3 | 59 |
| TOT | Heung-Min Son | MID | 2.3 | 58 |
| ARS | Emile Smith Rowe | MID | 8.0 | 57 |
| WHU | Saïd Benrahma | MID | 3.3 | 57 |